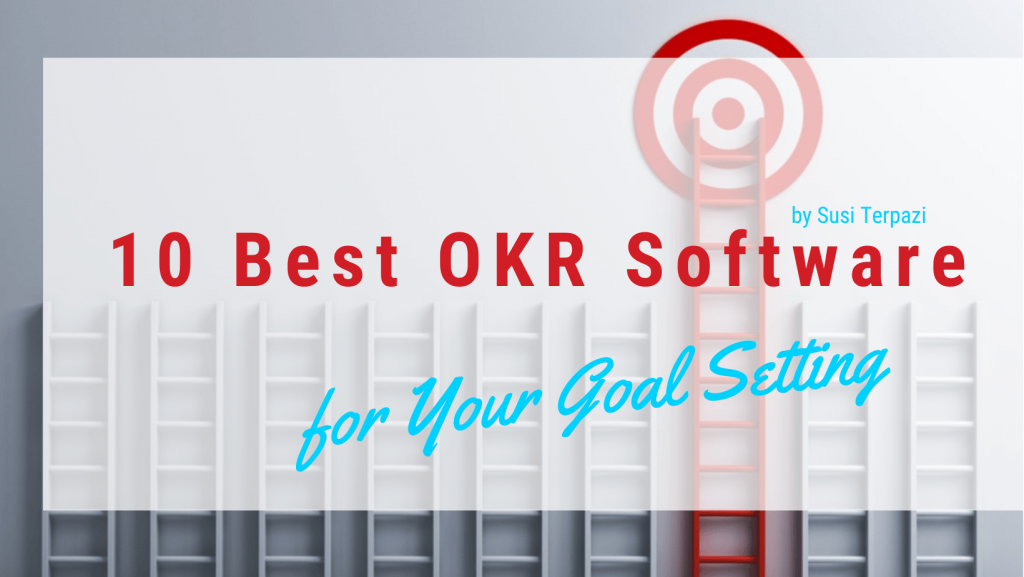 This article will assist you in quickly comparing and evaluating the easiest to apply OKR software and other OKR tools, that will assist your business strategies and goals, and execution.
Goal setting is hugely important.
Are you looking to align your organizational goals with your teams and employees? Do you want a far better communication strategy and need better performance execution tools? In this article, you can find OKR tools, created to assist you with these important performance subjects.
OKR software may be a good way to jumpstart your business in creating ambitious yet attainable company and team objectives. There are some ways to manually manage your goals but this will be burdensome and hectic because the goals and objectives start to pile up.
It's worthwhile to take some time and effort to find an OKR tool that will better assist your organizational pursuits and increase effective communication and directional success.
To save you time, we've compiled a list of our top 10 OKR software tools in 2023 to keep track of what you want to measure and what really matters.
Top 10 OKR Software
OKR Software FAQ
What are OKRs?
OKR stands for "Objective and Key Result", which are goals for business strategy planning. The OKR framework helps organizations to define their goals, track their progress, and analyze the results. Objectives are typically vague and ambitious and qualitative. Then there are Key Results and usually three of them, which measure what you have achieved towards the Objective.
What is OKR Software?
OKR software (Objective & Key Result software) is a tool used for developing strategies and objectives, that align both the team and the organization.
What is the difference between OKRs and KPIs?
OKRs vs KPIs — what do they stand for? Key Performance Indicators are a series of quantitative goals (for example conversion rate, sales, leads). The OKR methodology, on the other hand, is more advanced and aspirational and requires more of a push to realize the results, ambitious but still attainable.
OKR Software Comparison Criteria
What are we trying to find out when we compare software for review? Here is a summary of our evaluation criteria:
User Interface (UI): Is it smooth and attractive? Is flow intuitive, even for low-tech individuals?
Usability: Is onboarding new users easy? Do they offer company support, user support, tutorials, and training? Is there a web community/forum around the software?
Features & Functionality:
Feedback & review tools: Is it easy for managers and employees to evaluate their performance? Does it facilitate peer-to-peer communication?
Goal Alignment:
Does the tool make it easy to align objectives and Key Results to the next level and even cross-functional between teams?
Employee Engagement:
Are there features for employee 1-on-1s, comments, weekly check-ins, and insights?
Reporting:
Does the tool give real-time reports and insights which can be easily visualized, shared, and analyzed? Are the reports customizable? Are there ready-to-use templates available?
Integrations:
Is it easy to attach with other tools, like performance management software, talent management software, or employee management systems? Any pre-built integrations? Are you able to import objectives and goals drafted in other software?
Value for money:
Is the price justifiable? Is pricing clear, transparent, and flexible?
Overview Of The Top 10 OKR Tools in 2023
Here is a brief extract of the OKR software comparison that is featured on this top 10 list (the list will be updated constantly).
FlowyTeam – Best user-friendly interface and UX and most value for money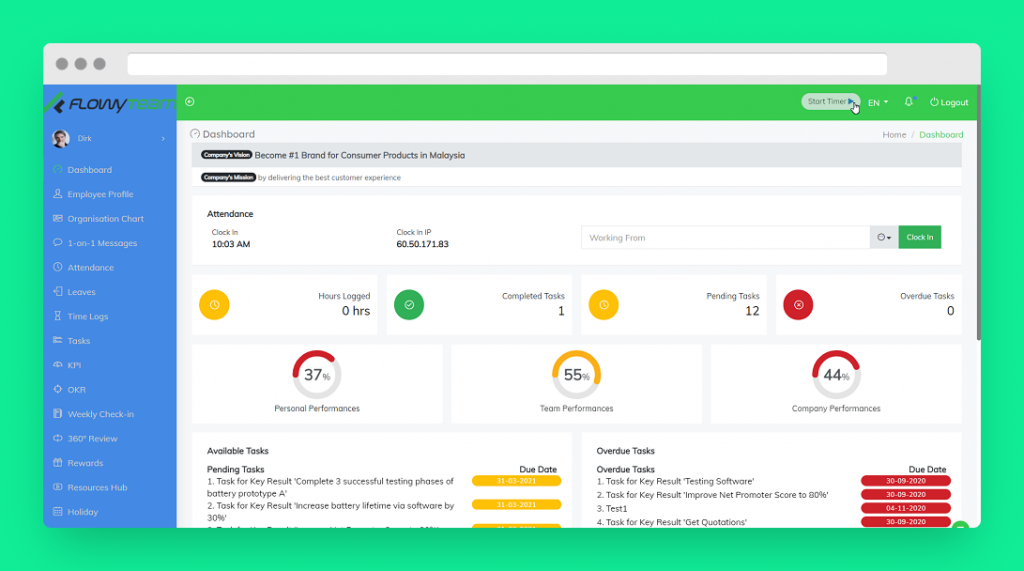 The OKR software has a robust dashboard with features for KPIs and OKRs as well as task management progress.
FlowyTeam is a KPI and OKR software for executing strategies using an OKR and KPI approach. In addition, it also has a reward system, task management, employee engagement, 1-on-1s, own content management, project management as well as and attendance, and time logs.
The software allows users to set up their own interface, questions, templates, corporate identity, etc. Users can plan OKR at the start of the quarter and promote high levels of employee engagement using collaboration features in the system. Since FlowyTeam is easily customizable and you can get started with OKRs easily and add on additional modules.
FlowyTeam integrates with Google Sheets, Google Analytics, Slack, Microsoft Teams, and several other popular business apps.
FlowyTeam includes a free plan for up to 10 users for 1 year and regular pricing is just $3.33 per user per month.
Pros
All modules are included
Facilitates a lot of employee engagement features
Provides OKR coaching and integration
Supports over 30 languages
Cons
Feature options may be overwhelming for users at the beginning
Flowyteam has 10 integrations to external apps but they have a long list in their roadmap
Need expert help finding the proper Performance Management, Productivity, KPI, and OKR Software?
We listed the comparison software portal g2.com to assist you to discover the proper solution. G2's Performance Management OKR Software gives you an independent overview and shortlists software products that best fit your specific company needs. This platform provides you with a complete evaluation without the hassle of conducting a full research process.
G2 b2b software comparison platform provides a good overview of the user rating for satisfaction and setup/support. They rated more than 100 OKR software SaaS and FlowyTeam ranked in the TOP10 for 2023. We bring in additional criteria such as "Value for Money" into the rating, which we think is very important for price-conscious organizations.